Nissha Technology Used in JAPERA's 3D Touchpad
Force sensor and molding technology merged to develop a 3D force sensor for automobiles
January 29, 2019
Nissha Co., Ltd.
 Nissha Co., Ltd. (hereinafter, "Nissha") technology has been chosen for use in the 3D touchpad developed by the Japan Advanced Printed Electronics Technology Research Association (hereinafter, "JAPERA"*1).

 The 3D touchpad is a prototype developed by JAPERA as a part of a project with the New Energy and Industrial Technology Development Organization (hereinafter, "NEDO"). This is an input device that incorporates sensors in three dimensions that can sense finger movements on its surface in addition to how strong a touch pressure is, making pinches and other intuitive operations possible.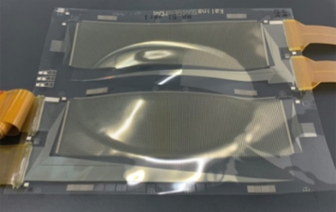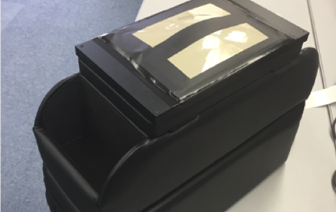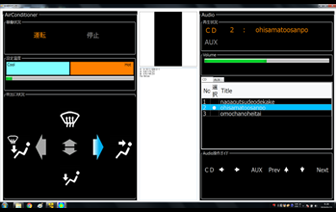 The automotive interior environment needs to be one that provides a pleasant, comfortable space, and will increasingly require devices and technologies to achieve this. Nissha sees the automotive market as a promising one where future growth can be expected, and so is focusing its efforts on new products that apply the core technologies of printing, coating, lamination, molding, and patterning that it has developed over the years.
 The 3D force sensor that has been selected for this 3D touchpad uses pressure-sensing technology based on the touch sensor technology Nissha has accumulated in combination with the organic TFT sheet*2 developed by JAPERA and the molding technology for processing3D shapes from sheet materials with various functions, merging these to achieve a curved-surface input device with high accuracy and sensitivity.
The 3D touchpad is expected to be installed in the console boxes of automobiles, where it can be used to control vehicle air conditioner temperature, ventilation direction, audio selection and volume control, and much more.
 Future expansion of applications can also be expected, going beyond installation in console boxes to measuring the amount of force used to hold a steering wheel or applied to a seat.

 The 3D touchpad will be exhibited by JAPERA at nano tech 2019 (Jan. 30 to Feb. 1, 2019, Tokyo Big Sight).

*1 An association for technology research that aims to commercialize flexible devices and printed electronics technologies.
*2 Organic TFTs are unlike previous inorganic TFTs in that they can be made into flexible shapes through using organic materials.

Exhibition Overview
Name
nano tech 2019 - The 18th International Nanotechnology Exhibition & Conference
Dates & Times
10:00 - 17:00
January 30 - February 1, 2019
Venue
East Exhibition Halls 4, 5, 6 & Conference Tower, Tokyo Big Sight, Japan Booth number: 4B-18 (within the NEDO booth)
Items to be displayed
3D Touchpad
Official website
nano tech 2019 - The 18th International Nanotechnology Exhibition & Conference
Inquiry
Please feel free to contact us.
- The content of the web is information at press time, may change thereafter without notice. Due to risks and uncertainties, predictions may differ from actual results. Please be forewarned.
- "Nissha" is a generic name of Nissha Co., Ltd. and "Nissha Group" is a Nissha Co., Ltd. and its group companies.