Sales Release of Nissha Brand Cosmetic
Microneedle Patch SHOT MODE Series
May 14, 2019
Nissha Co., Ltd.
Nissha Co., Ltd. (hereinafter, "Nissha") has begun selling its own brand cosmetic microneedle patch SHOT MODE series. The patches are available at cosmetic specialty shops from March 2019, and at an online store from April 2019.
*For detailed information on retailers and the online store, please see
the official SHOT MODE website
(Jpanaese only).
Microneedles are skin care ingredients molded into the shape of 0.1-millimeter-level fine needles. They are processed into an adhesive patch which sticks to the skin to allow the absorption of the ingredients directly into the deeper layers of the skin. They are attracting attention as the next-generation skin care products in the cosmetics industry.
Using its core technologies of high-precision molding and laminating, Nissha has succeeded in developing hyaluronic acid-based microneedles. It began mass production of these as a skin care product in 2012, and moved into OEM/ODM production in 2017. This is the first time that Nissha has started selling the cosmetic microneedle patches under its own brand.
Sales Products
SHOT MODE GF3
Usage areas: Outer corner of the eyes, under the eyes, nasolabial folds
Intended use: Firmness, aging care, dryness
Unit price: ¥10,000 (excluding sales tax) / box (4 pairs)
SHOT MODE BT-X
Usage areas: Wings of the nose, between the eyebrows
Intended use: Firmness, ageing care, skin tightening, texture of wings of the nose
Unit price: ¥12,000 (excluding sales tax) / box (4 pairs)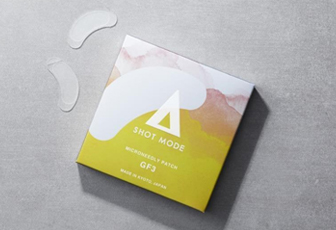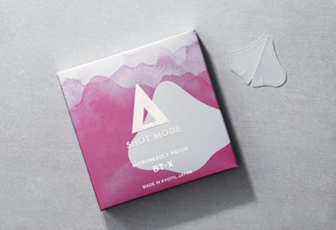 In May 2019, a new product, SHOT MODE C6, which is a high concentration formulation of Vitamin C derivative, will be released.
Inquiry
Please contact us if you have any requests or questions.

Cosmetic Manufacturing License (License number: 26CZ200065)
Quasi-Drug Manufacturing License (License number: 26DZ200024)
We conduct cosmetic-use microneedle patch OEM/ODM production and joint development.
- The content of the web is information at press time, may change thereafter without notice. Due to risks and uncertainties, predictions may differ from actual results. Please be forewarned.
- "Nissha" is a generic name of Nissha Co., Ltd. and "Nissha Group" is a Nissha Co., Ltd. and its group companies.