Initiative for Next Generation Support
"Let's Make a Safari Park" Workshop
December 18, 2019
Nissha Co., Ltd.
Nissha Co., Ltd. organized a workshop titled "Let's Make a Safari Park" at Kyoto Prefectural Center for Arts & Culture on December 15, 2019. The workshop was conducted in collaboration with the NPO Kids Meet Artists with the aim of providing "next generation support" in line with Nissha's Basic Social Contribution Policy.

This time, with the cooperation of Japan Environment and Children's Study (JECS), Kyoto Regional Center, a workshop was held as one of the limited events in the Kyoto area organized by the center. On the day of the event, 18 groups of 38 parents and children who had applied in advance participated.

The workshop invited artist duo HANA★JOSS, based in Osaka Prefecture, to introduce participants about the traditional Indonesian music instrument Gamelan and shadow puppet theater Wayang. With their guidance, participants enjoyed playing the music instrument and touching the shadow puppets.

After that, parents and children challenged to make Wayang under the theme of "Let's make a safari park". Elephants, lions, dragons, stag beetles, hamsters, sharks, and even a train to Safari Park, each participant created a unique Wayang with their rich imagination. HANA★JOSS creates improvised stories using Wayang made by children. The children performed a shadow puppet with their own Wayang on the music and songs of HANA★JOSS played. It was a fun workshop that fused music and art.
                                                                                                                                    
Nissha provided single-use ECG electrodes manufactured and sold by our Medical Technologies division as materials for Wayang making. It was an opportunity for children to touch medical devices with their own world view.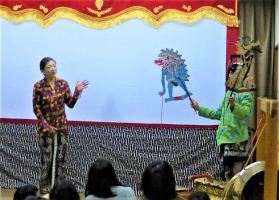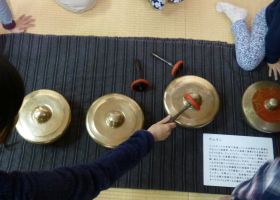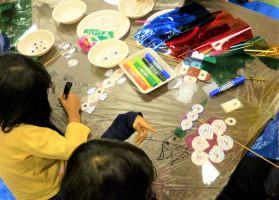 - The content of the web is information at press time, may change thereafter without notice. Due to risks and uncertainties, predictions may differ from actual results. Please be forewarned.
- "Nissha" is a generic name of Nissha Co., Ltd. and "Nissha Group" is a Nissha Co., Ltd. and its group companies.