Sponsoring the 14th "Making Supreme Moving Toys" Toy Contest Grand Prix in KYOTO
January 22, 2020
Nissha Co., Ltd.
Nissha Co., Ltd. (hereinafter referred to as "Nissha") sponsored the 14th "Making Supreme Moving Toys" Toy Contest Grand Prix in KYOTO, an event for elementary school students held in Kyoto Kogakuin Senior High School on January 19, 2020.

The contest is organized by the Kyoto Children's Manufacturing Business Promotion Committee and the Kyoto City Board of Education, and is a competition in which children in elementary school grades 3 to 6 in Kyoto City participate with their self-made rubber-powered work. This contest aims to cultivate creativity, independence, and sociality by engaging in "moving toys making" to increase familiarity and interest in the uniqueness of Kyoto, "coexistence of tradition and innovation."

The contest programs include the Racing Section, which competes for speed and distance with handmade racing cars, the Performance Section, which competes for fun and body design, and the Beginner Section, which competes for speed with a designated assembly kit. Approximately 440 elementary school students from 100 elementary schools in Kyoto participated (approximately 1050 visitors including parents and leaders).

Nissha provided racing car assembly kits and original seals for the beginner section of third and fourth grade elementary school students, and awarded the Nissha Prize to the race winners. Also, at the exhibition corner set up in the venue, which introduces the latest technologies of Kyoto manufacturing companies, we exhibited panels introducing our technologies hidden in various products. In addition, a corner was set up to answer questions by operating the tablet to the quiz "Let's explore five mysteries!". Many elementary school students and their families visited there and took on quizzes while checking the materials on display.

As a manufacturing company aiming for a sustainable society, Nissha supports the purpose of this contest. And we are sponsoring and participating in it as a part of future generation support activities as set forth in the Basic Social Contribution Policy.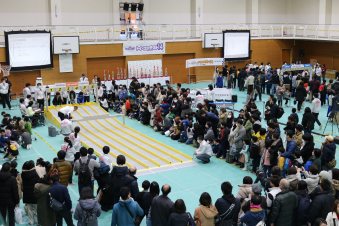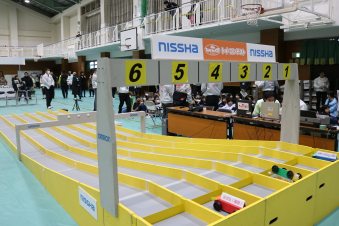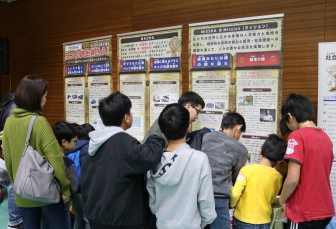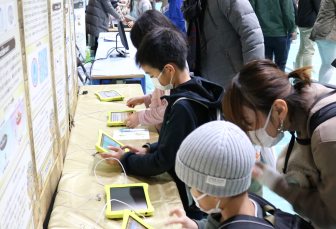 - The content of the web is information at press time, may change thereafter without notice. Planning goals, risks and uncertainties due to the fact, predictions and may differ from actual results. Please be forewarned.
- "Nissha" is a generic name of Nissha Co., Ltd. and "Nissha Group" is a Nissha Co., Ltd. and its group companies.