Collaboration between Material Insert, Nissha's molding technology and
Kuraray's synthetic leather CLARINO
January 7, 2020
Nissha Co., Ltd.
January 7, 2020
Nissha Co., Ltd.
Kuraray Co., Ltd.
Nissha Co., Ltd. (Global Headquarters: Kyoto-shi, Kyoto; hereinafter Nissha) and Kuraray Co., Ltd. (Head Office: Chiyoda-ku, Tokyo; hereinafter Kuraray) have jointly developed Material Insert using the synthetic leather CLARINO, and starting selling the productt through both companies' sales channels.
CLARINO is Kuraray's synthetic leather that couples a luxurious feel with functionality and ease of maintenance. Material Insert is Nissha's insert molding technology that enables as-is use of the texture and characteristics of materials such as fabric, wood, and leather. Nissha's advanced printing and molding technology is combined with the features of CLARINO into a material-based product featuring high-quality texture, reliability, and beauty. Primary targets are the mobility market, where demand is rising for seamless interiors and new user interfaces amid the trend of "CASE" automobiles; and the consumer electronics market, where the exterior is required to match with the user's lifestyle.
1. Features of CLARINO
CLARINO is synthetic leather from Kuraray Co., Ltd., who recreated the structure of natural leather by utilizing the power of science. Through the use of a base in which special ultra-fine fiber non-woven fabric is impregnated with polyurethane resin, it has created a flexible and high-quality texture.
In addition to its luxurious feel, it is functional and easy to maintain, and is used in various products in fields such as fashion, interior, and sports.
2. Features of Material Insert
"Material Insert" is an insert technology which makes it possible to take advantage of the soft textures and characteristics of materials as-is.
It is also possible to add functions such as light-transmitted design and touch sensor switch.
3. Features of Material Insert with CLARINO
CLARINO does not stop at insert molding of free shapes.
As it can be used in complicated and three-dimensional shapes, it can be used in seamless and stylish design.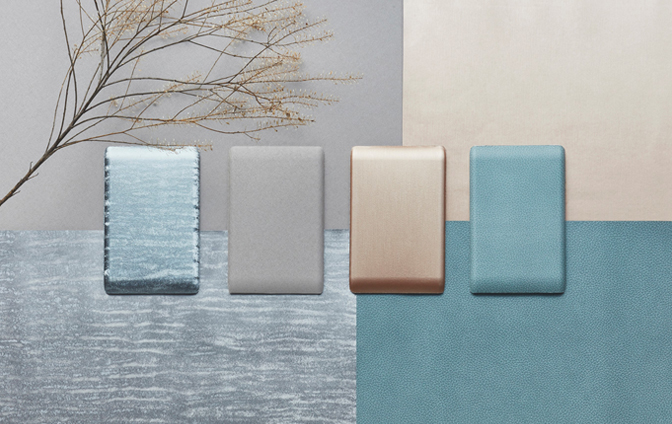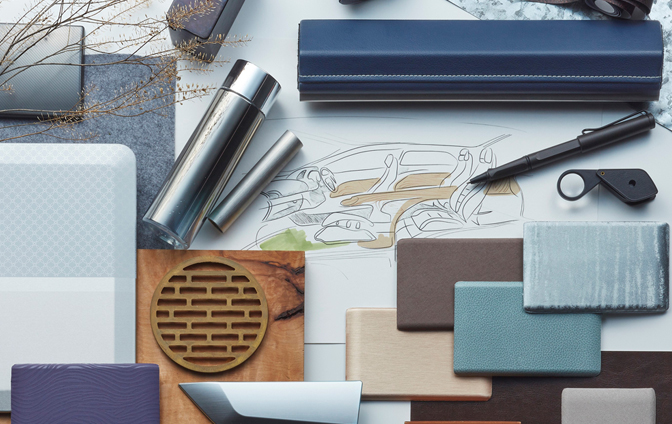 Overview of Nissha
In 1929, Nissha was founded aspired of high-quality photographic printing in Kyoto. We have been constantly attempting to improve core technologies while integrating the technological elements such as Laminating, Coating and Molding, into the Printing technology we have cultivated since our foundation. Nissha Group is developing the 4 business segments of "Industrial Materials", "Devices", "Medical Technologies" and "Information and Communication".
Overview of Kuraray
Kuraray was founded in 1926 in Kurashiki City, Okayama, for the purpose of commercializing regenerated cellulose fiber rayon, lauded at the time as "artificial silk". In 1950, it became the first company in the world to commercialize polyvinyl alcohol (PVA) fiber, under the brand name Kuralon. And in 1964, it developed the synthetic leather CLARINO, with the structure and functionality of natural leather through the application of chemical technology. Drawing on its accumulated base of unique technologies in polymer and synthetic chemistry, which it cultivated through fibers, the company later expanded into the field of chemicals with the globally competitive vinyl acetate related business. Today, Kuraray has global operations and offers products having the highest global market shares that it has created using our unique technologies.
- The content of the web is information at press time, may change thereafter without notice. Planning goals, risks and uncertainties due to the fact, predictions and may differ from actual results. Please be forewarned.
- "Nissha" is a generic name of Nissha Co., Ltd. and "Nissha Group" is a Nissha Co., Ltd. and its group companies.