Nissha Global Headquarters Acquires
ISO 22716 (Cosmetic GMP) Certification
September 25, 2020
Nissha Co., Ltd.
Nissha Co., Ltd. (hereafter, "Nissha") acquired ISO 22716 (Cosmetic Good Manufacturing Practices [GMP]) certification for its Global Headquarters on August 5, 2020. ISO 22716 (Cosmetic GMP) is the international standard of manufacturing and quality management for cosmetics products.

Nissha has taken advantage of its high-precision molding and laminating technologies to engage in the production and sales of skin care cosmetics employing microneedle technology since April 2017. The company plans to use this certification as an opportunity to manufacture safe and secure products for supply in Japan as well as overseas markets such as Europe and the United States.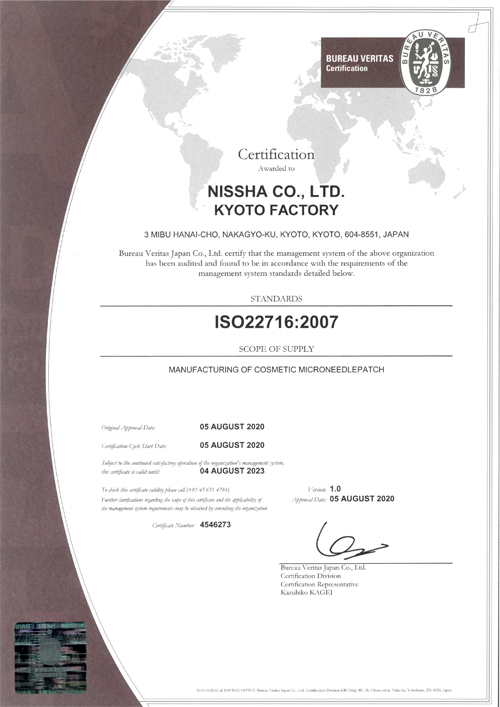 - The content of the web is information at press time, may change thereafter without notice. Planning goals, risks and uncertainties due to the fact, predictions and may differ from actual results. Please be forewarned.
- "Nissha" is a generic name of Nissha Co., Ltd. and "Nissha Group" is a Nissha Co., Ltd. and its group companies.