Nissha Received "A" Rating in MSCI ESG Ratings
November 9, 2022
Nissha Co., Ltd.
Nissha Co., Ltd. received an "A" rating for the first time in the MSCI ESG Ratings issued in October 2022. The rating was upgraded from the previous "BB", reflecting the high evaluation of the Company's ESG initiatives.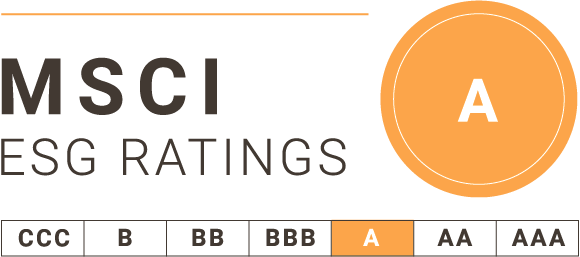 MSCI is a financial services company headquartered in New York, USA. It calculates and publishes numerous stock indices, and provides a variety of tools for institutional investors globally to support their decision-making on investment. The MSCI ESG Ratings comprehensively evaluates the companies' activities for the environment, social, and governance of thousands of companies around the world and compares them by industry. MSCI evaluates and rates the companies in seven grades from the highest rank "AAA" to the lowest "CCC".
* THE USE BY NISSHA CO., LTD. OFANY MSCI ESG RESEARCH LLC OR ITS AFFILIATES ("MSCI") DATA, AND THE USE OF MSCI LOGOS, TRADEMARKS, SERVICE MARKS OR INDEX NAMES HEREIN, DO NOT CONSTITUTE A SPONSORSHIP, ENDORSEMENT, RECOMMENDATION, OR PROMOTION OF NISSHA CO., LTD. BY MSCI. MSCI SERVICES AND DATA ARE THE PROPERTY OF MSCI OR ITS INFORMATION PROVIDERS, AND ARE PROVIDED 'AS-IS' AND WITHOUT WARRANTY. MSCI NAMES AND LOGOS ARE TRADEMARKS OR SERVICE MARKS OF MSCI.
- The content of the web is information at press time, may change thereafter without notice. Planning goals, risks and uncertainties due to the fact, predictions and may differ from actual results. Please be forewarned.
- "Nissha" is a generic name of Nissha Co., Ltd. and "Nissha Group" is a Nissha Co., Ltd. and its group companies.