Nissha Acquires Assets of U.S.-based Medical Devices Manufacturer Specializing in Defibrillation Electrodes
May 21, 2018
Nissha Co., Ltd.
Nissha Co., Ltd. (hereinafter "Nissha") has acquired into its Medical Technologies business segment the assets of Heart Sync, Inc.*1 (hereinafter " Heart Sync ") a U.S.-based medical devices manufacturer specializing in defibrillation electrodes.*2 The acquisition took place on May 18, 2018, through the Nissha consolidated subsidiary, Graphic Controls Group.

In the Sixth Medium-term Business Plan (FY2018.12–FY2020), Nissha identifies consumer electronics(IT), automotive, medical devices, high-function packaging materials as its four focus markets, and is executing a growth strategy that maximizes its business foundation acquired and established thus far. Nissha seeks to accelerate expansion of its business domain particularly in the promising global growth market of medical devices.
Nissha introduced the Medical Technologies business segment and achieved full-scale entry into the medical devices market in September 2016, with the acquisition as a subsidiary of U.S.-based medical devices manufacturer, Graphic Controls Group. Offerings at present focus on medical electrodes, medical surgical devices, and other products for cardiology, which are highly related to Nissha's core technologies of "Patterning", "Coating" and "Molding". These are provided in global contract manufacturing services for major medical devices manufacturers, and produced and distributed as a proprietary brand for hospitals.
Through these business models, Medical Technologies aims to enhance internal resources such as product development and design, and enrich its lineup of distinctive products toward sustainable growth.
Heart Sync, also a manufacturer of medical electrodes, specializes in the potential high growth market of defibrillation electrodes. It boasts product development and design capabilities that accurately grasp the needs of health care providers.
A line of defibrillation electrodes, sales channels, and highly competitive design and development capabilities—with the acquisition of these tangible and intangible assets, Nissha hopes to create synergy between Heart Sync and Graphic Controls Group, Medical Technologies business.

*1: Heart Sync products are currently not produced or distributed in Japan.
*2: Defibrillation electrodes are conductors that deliver an electrical shock from the defibrillator to the patient to restore a regular heartbeat. The eletrodes also function to ECG for deciding whether to deliver an electrical shock.


Outline of Heart Sync
Trade name
Heart Sync, Inc.
Location
4401 Varsity Drive Suite D, Ann Arbor, Michigan 48108, U.S.A.
Representative
Stephen Shulman
Founded
2007
Business outline
Design and sales of defibrillation electrodes
Net sales
Net sales USD 6,500,000 (approx. JPY 715,000,000, fiscal year ended December 2017)
Based on an exchange rate of USD 1 = JPY 110
Website
http://www.heartsync.net/
Outline of Graphic Controls Group
Location
400 Exchange Street, Buffalo, NY 14204, U.S.A.
Representative
Sam Heleba, President and CEO
Senior Vice President, General Manager of Medical Technologies Business Unit, Nissha Co., Ltd.
Founded
1909
employees
1,072 (Graphic Controls Group consolidated, as of March 31, 2018)
Business outline
Production and sales of medical devices and business media
Net sales
USD 163,152thousand
(Graphic Controls Group consolidated, fiscal year ended December 2017)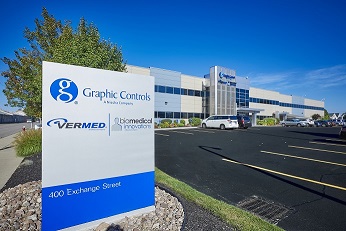 Outlook for the Future
The impact of the acquisition on Nissha's consolidated business results is expected to be minor. Prompt notification will be made should the need arise to revise forecasts or disclose other matters.
- The content of the web is information at press time, may change thereafter without notice. Planning goals, risks and uncertainties due to the fact, predictions and may differ from actual results. Please be forewarned.
- "Nissha" is a generic name of Nissha Co., Ltd. and "Nissha Group" is a Nissha Co., Ltd. and its group companies.