Decoration Process Line-up
Decoration Process Line-up
Overview
Nissha has "IMD·IML", which mold and decorate plastics simultaneously, and "Transfer foil", which adds design to molded parts.We propose the most suitable decoration process to realize a superior design and function that matches the material, shape, size, etc., of the customer's product parts.

IMD Process Line-up
IMD (Type-TR)
Decorative technology to transfer graphic in injection mold process.
Only the design printed on the film is transferred to the resin surface at the time of molding and the film is taken out.
By performing the decoration at the same time as the molding, the production cost can be reduced. It is a construction method that can achieve both a low cost and a high-quality design through aligned decoration.
High precision alignment is possible
Trimming of film margin is not required before and after molding
A combination of multiple designs such as wood grain, metallic, geometric patterns, etc., can be reproduced on the same surface
1.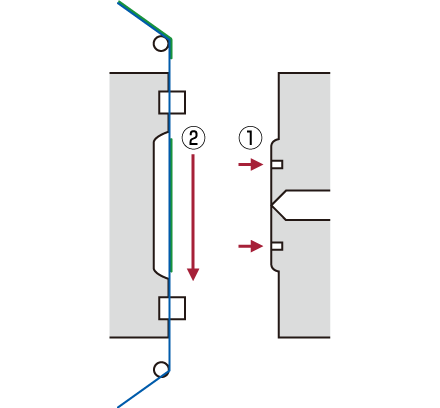 2.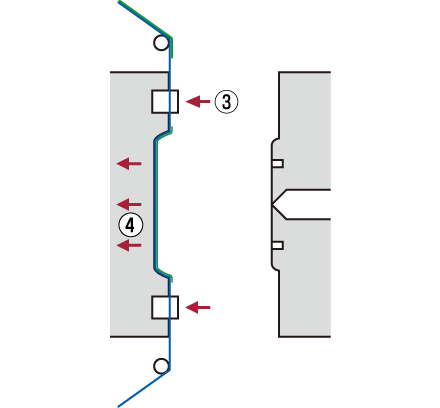 3.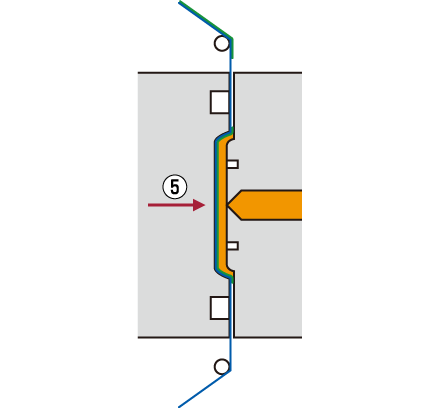 4.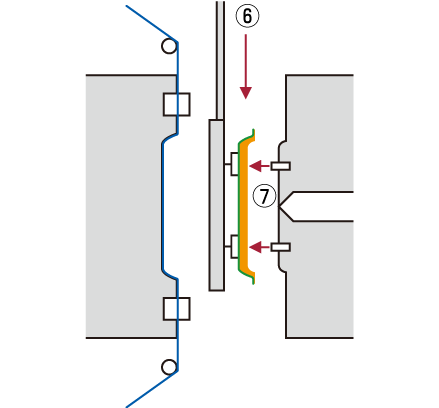 IMD (Type-S)
Decorative technology for more complex 3D shapes.
Type-S is a sytem that can handle highly constricted shapes among the construction methods. By thickening the film, greater constriction can be achieved and a vivid design can be decorated on plastic products with more complex 3D shapes.
A design film softened by heating is lined up on the inside of a mold, injection molding takes place, and any annecessary parts are trimmed after that.
A sharp pattern with almost no distortion can be decorated for highly constricted shapes.
Using an acrylic film outer layer, a high-quality exterior with a sense of depth and excellent physical properties can be achieved.
Energy-saving system in which the process is automated and shortened.
1.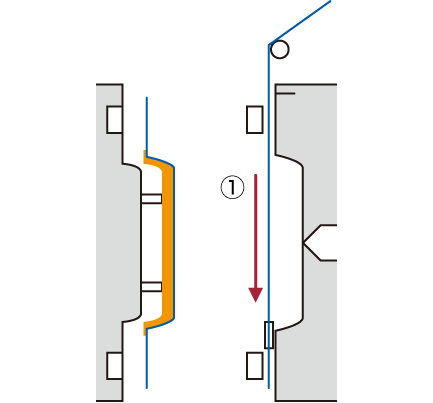 2.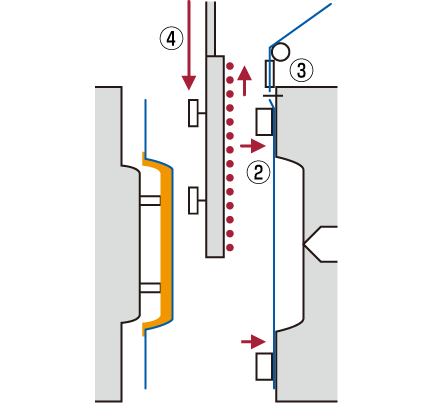 3.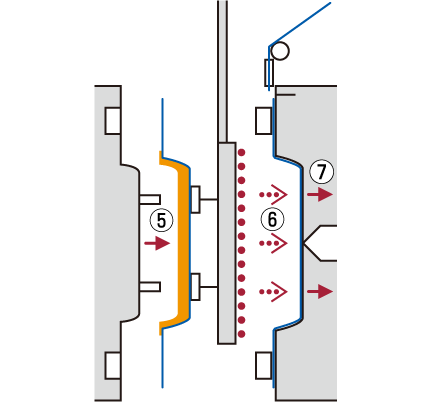 4.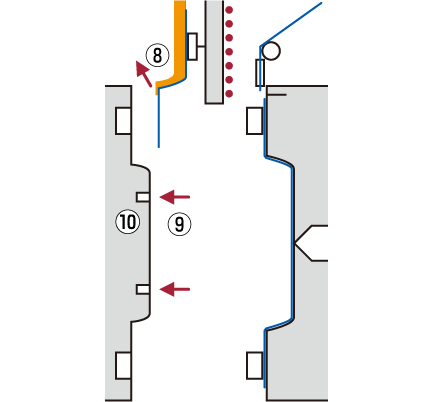 5.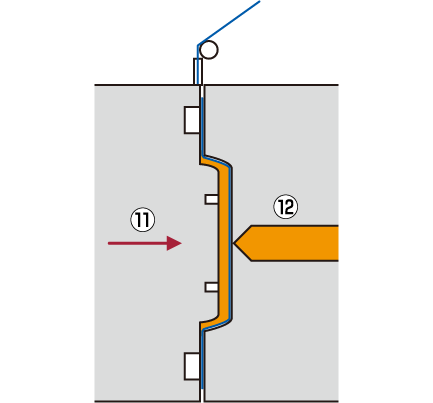 6.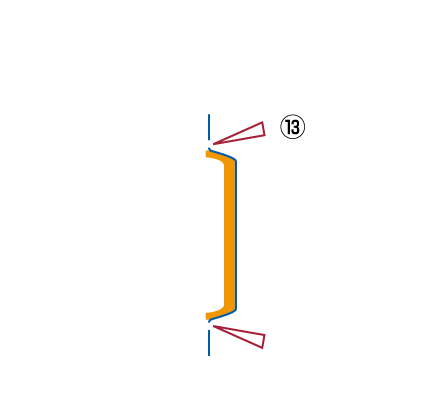 IML (IMD Type-P)
Decorative technology for the most constricted shapes.
IML (IMD Type-P) is a system that can handle the thickest films. It is the construction method in which a printed sheet is pre-formed and then a rough-cut film is inserted inside the injection mode. This method is most suitable for decorating complex shapes. Furthermore, a high-quality exterior with a sense of depth and excellent physical properties (non-glossy treatment is also possible) can be achieved.
This is a pre-form process whereby a design film softened by heating is lined up on the inside of a forming die. Any unnecessary parts will be trimmed. Resin is introduced to the mold and the film integrates with the component while it is being molded.
1.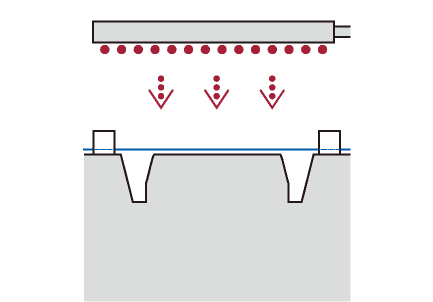 2.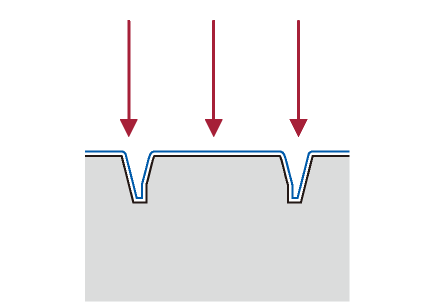 3.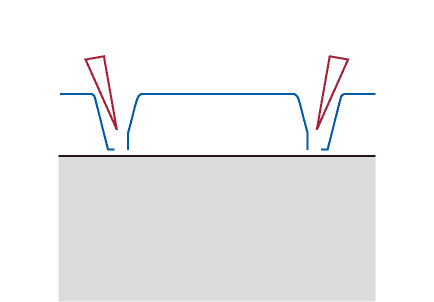 4.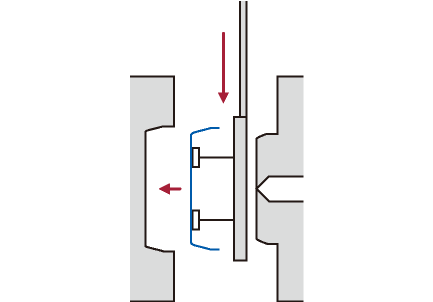 5.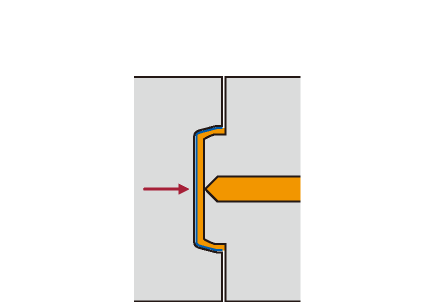 6.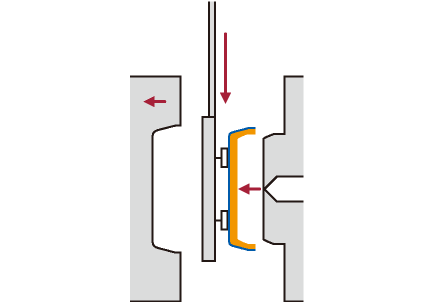 Transfer Process Line-up
Roll type heat transfer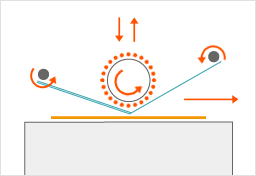 Overview
The part (transferred material) is fixtured on a table using a locating jig. Using a silicon roll, the heat transfer foil is heated and pressed against the part. The transfer foil is released as the table moves forward horizontally, leaving the graphic ink layers on the part. In addition, the transfer machine has a 3-axis servo motor with micro-controller for rotating roller for large molded parts such as air conditioners.
Key features
Flat parts: Transfer to one surface of panel, cabinet, etc. Transfer to cylindrical parts and curved surfaces also made possible by use of rotation jigs.
Up-down type heat transfer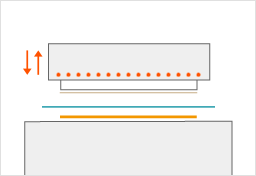 Overview
In this system, The silicon rubber attached to a heating plate moves downward and presses the heat transfer foil against the part. The graphic ink layers are transferred through heat and pressurization. By using metal stamping in place of silicon rubber, hot-stamping is performed.
Key features
Flat products / Flat surface on products
Vacuum press transfer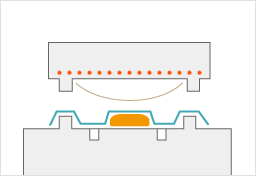 Overview
A part is located on table overtop of suction (vacuum) openings incorporated into the base. The heat transfer foil is held in position by vacuum pressure and a silicon rubber roller is applied against the part. Heated air is blown from above to inflate the silicon rubber, applying pressure and transferring the graphics onto the part.
Key features
Capability to transfer to 3D curved surfaces
Inquiry
Please feel free to contact us.