IMD·IML
Overview
IMD and IML are In-mold Decoration technologies which can add beautiful decoration and functional layers onto the plastic surface.
IMD and IML are used in a wide range of industries such as automotive interiors, mobile devices and home appliances. We can provide unique features on your product surface which cannot not be added by conventional process like painting, silk printing or pad printing. Our technology contributes for creating high valued surface on your product.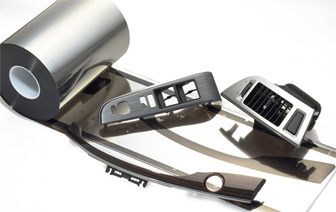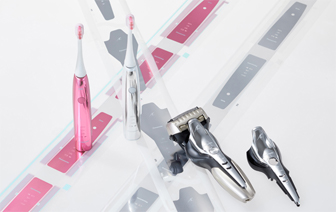 *IMD and IML are registered trademarks or trademarks of Nissha Co., Ltd..
*IMD is a decorative technology to transfer graphic in injection mold process, it is known as "In-mold Decoration" in single short. IML is known as "In-mold Labeling" in single short.

Introducing features of IMD·IML which enables various design, texture, and functions.
---
Key Features
It allows beautiful decoration on curved geometry.
A variety of artistic expressions are possible, such as fine grid patterns reminiscent of real thing, delicate geometric patterns, matte tone, and metallic tone.
Accurate alignment control is possible, such as display windows, logos, icons, and etc. on your design artwork..
Functional layers on top surface is available, such as hard coat, antibacterial and various optical characteristics.
IMD and IML could make cost benefit because of its simple and mass production oriented process.
Thin ink layer could contribute to the reduction of VOC (Volatile Organic Compounds) contained in products.
Secondary printing process is not required. So it would be saving your facility, space, energy and total manufacturing process.
Line-up
Our products provide you various design and functions.
Design
We can provide various designs such as wood grains, hairlines, and geometric tones, according to the customers' needs.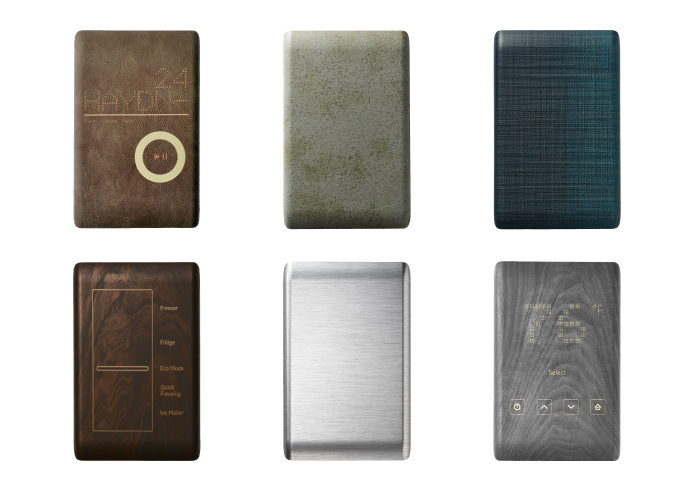 Function
Antibacterial
Antibacterial surface realizes a clean and secure user interface.


Hard Coating (Scratch Prevention)
Our hard coat can stand spec such as automotive navigation displays, interior parts, mobile devices and home appliance parts.
* Surface hardness is subject to change by resin spec.

AR (Anti Reflection) LR (Low Reflection)
Anti/Low-reflection layer is available on display surface to reduce the reflection of external sun light, which enhances the cover display's visibility.

AG (Anti-Glare)
AG surface (fine physical embosses) for reducing reflection of external sun light, which enhances the cover display's visibility.

Reduction of sparkles issue on display
To reduce visible sparkle issue on display (caused by interference with high resolution LCD) is possible. Our technology is used for cover panel display of automotive interior.

Anti-Fingerprint (AFP)
AFP function can provide you "easy to wipe" the fingerprints and stains on product surface.
Our technology is used in automotive navigation displays, interior parts, mobile devices and home appliance parts.
Texture·Tactile Sence
Our technology of printing and of film can create realistic haptics and texture on production surface, which can provide you "Real material touch".
Real materials such as wood and fabrics is the options, instead of decorative films.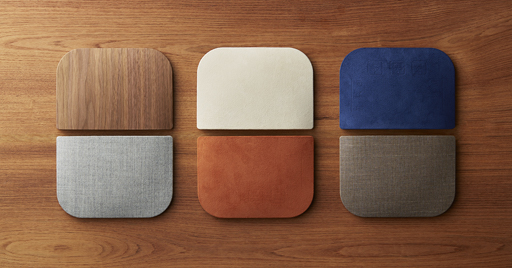 Service System
A service system that is centered on the provision of films can be provided to meet the customer's supply chain and production systems.
Supply of molded products
Supply of film and molds
Supply of film
Molding/
Decoration
Nissha
Customer
Customer
Mold
Nissha
Film
Nissha
IMD Turn Key System
Nissha Group supplies a convenient "Turn Key Solution" which, allows for immediate use by customers. All the processes from the design to mass production are controlled by Nissha Group. Nissha Group offers an optimal process and system to assist customers, while taking on secondary tasks of communications and operations within each enterprise. Customers can therefore monitor the processes after making an order to Nissha Group, which facilitates follow-ups to production planning. Of course, Nissha Group itself can supply products as a molding manufacturer and also is ready for supplying discrete products such as IMD films, molds, and film feeding units.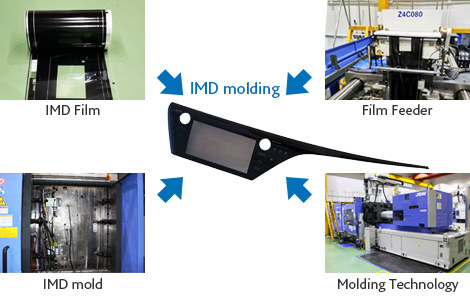 Inquiry
Please feel free to contact us.