Transfer Foil
Overview
Heat transfer foil enables decoration not only for plastic molded products but also for glass and metal. Ever since Nissha Group developed Japan's first transfer foil, Nissha Group's unique technology has long been admired under the brand name of Nissha Patran. Heat transfer foil was the origin for all of our decoration technologies (IMD) making Nissha Group the leader in the field of surface treatment.

*IMD is a registered trademark or a trademark of Nissha Co., Ltd..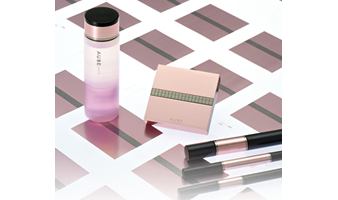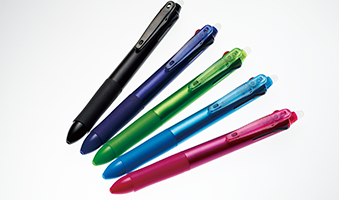 Key Features
The system can reproduce metallic effects, the luster of pearl, gloss, matte and various other artistic expressions.
Applicable with a diverse range of product shapes and materials using a relatively simple system.
Considerable cost benefits for mass production.
Service System
We can provide two service systems, supply of film (Transfer Foil) and transfer processing to customers' molded products. We can also provide transfer machines.

Transfer to Various Materials
Transfer Technology for Metal, Glass
Nissha Group's transfer technology enables decorate and add functions on not only for plastic molded products but also for glass, metal and curved parts.
Transfer to Metal "Nissha In-Metal"
It is possible to achieve color representations which utilize the beauty of the metal materials, representations which give a high-class impression, multiple colors and pattern designs.

*Nissha In-Metal and In-Metal are registered trademarks or trademarks of Nissha Co.,Ltd.
Key Features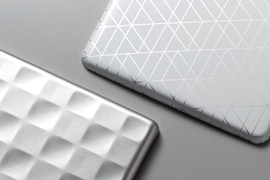 The reproducibility of colors is steady and it is also possible to deal with representations of white and yellow colors, which are difficult to reproduce in anodization.
We use an environmentally friendly dry processing method. The merits of this include that the processing of waste liquids is unnecessary and also that there are reduced VOCs, space requirements and electricity consumption.
The metals handled are aluminum, magnesium, stainless steel, titanium and others.
It is also possible to transfer functions of Hard Coating, Anti-Fingerprint, Anti-Bacteria besides decoration.
Heat Transfer Foil and Lamination for Glass
Nissha Group has developed technology cultivated for the decoration of plastic to applications for glass material. This technology can realize color expression that takes advantage of the sense of transparency of glass, expression with a sense of luxury, multiple colors and pattern designs.
It reduces printing unevenness by using thin-film printing technology. It is also effective in increasing the thinness of products.
There is a transfer type that bonds only an ink layer and a laminate type that bonds a film.
With the transfer type, multi-color decoration is possible in a single process based on exclusively developed adhesive materials and transfer equipment able to perform highly precise positioning.
With the film laminate type, it is also possible to realize glass shatter-proofing effects along with decoration.
Key Features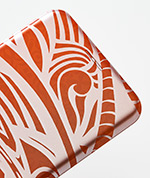 This technology provides multi-color designs in a single process. Drying for each printing of a single color is not required.
It uses an environmentally friendly dry method.
Apart from decoration, this technology can also add functions such as Hard Coating, anti-bacterial characteristics and weather resistance, etc.
This technology can also be applied to reinforced glass.
With the film laminate type, it is possible to realize thinner pictures and shatter-proofing effects along with high definition designs.
Transfer processing is possible on curved parts.
Inquiry
Please feel free to contact us.